Is it DIY?
Entry, June 2, 2018
(DIY) Foundation repair is not a do-it-yourself project for most people. If you believe you are qualified and up for the task... read on.
The first order of business is discovering the source of the water you have found on your basement floor. Is the water coming from a backed up floor drain, a leaking pipe or somewhere else? If the source of the water is not because the cat or dog was feeling indifferent to the litter box or would rather not take a walk outside, the chances are a crack has formed in the basement foundation wall.
Before breaking open walls and tearing up carpet, walk around the outside of your home. Look for a source or cause. If the evident water is near a basement window, look closely at the corners of the window. It is very common for concrete to crack in these locations. Depending on the cause of the crack, it could be running relatively vertical and could indicate some lateral force be placed on the length of the basement wall. If the crack is diagonal, a common cause is settlement. Looking closer at the crack in the window area, observe if a window well is located in front of the window and does it appear to be filled with drain rock and is it draining correctly. It is common for DIYers to install a window well, not knowing how to correctly drain it or not be aware that it needs to drain. Other cracks are common within 8-10 inches of the out side corner of an exterior foundation wall. Cracks are also found in locations where footing heights change, as seen with step footings for split level homes.
Now that you have discovered the source of the leak, a question to ask yourself is "how do you remove the source water" and "is it even possible to remove the source of water"? In the case of a window well, with no well drain. The solution for the cause is installing a window well drain when dealing with the effect, "repairing the crack".
Exterior foundation crack repair commonly deals with the cause and the effect. Excavated soil management needs to be your first thought. Don't underestimate the amount of soil coming out of the hole you will be digging. Where are you going to pile the soil? Consider the fact that the soil from an eight foot deep hole spreads out to about twice the size of the hole due to bulking. Even if the soil piled around the hole is only four feet in height, that makes the hole you dug 12 feet deep... Very dangerous. It is best to move the soil away from the hole or off site completely if required.
Bridging a crack in the foundation wall is paramount when repairing and waterproofing it. An "isolation barrier" such as dimpled membrane is a good product to use for this, the membrane keeps frozen soil from pulling at the repair in the future and it provides a backup layer allowing future rain water to drain down to the weeping tile.
If your plan includes injecting urethane or epoxy into cracks and voids, it is recommended to do this before excavating. These products have advanced greatly, and provide an ideal backer for placing finishing coats over to renew the look of exposed foundations. It should be noted that the hit or miss of blindly pumping expanding foams into cracks can result in plugging weeping tile or missing sections due to the fact you can not see where the product is going. WE have witnessed this as a "fact" when excavating the exterior to complete a repair.
As a side story, we were called to a house that had been experiencing water leaking through a crack and along the perimeter base of the same wall.
The customer had either hired someone or bought a kit from BIG BOX STORE and drilled for the ports along the crack and along the length of the wall base. They injected the ports and over the course of several days, chasing water coming in with more holes and ports at the perimeter.
We were called by the customer for solution. What the customer had not known was by drilling holes so closely together, we believed a fail point may have been created at the base of the concrete wall. Similar to a dotted hole on paper that says "TEAR HERE" It was not know by us or by the customer whether the holes were drilled completely through the wall. WE agreed to excavate an area of the home before committing to a solution.
What we did find was, ice or snow must have been in the original form work prior to pouring the concrete and left a void several meters long. The void was large enough to place a hammer handle under portions of the wall. The injected foam had filled some of the voids which required removal to repair due to the product not having the compressive strength required to hold up the wall. Secondly some of the foam had migrated to the weeping tile and had plugged it completely. Long story short "YOU DON'T KNOW WHAT YOU DON'T KNOW"
Concrete has been used to construct buildings before modern time and many structures still stand today. Those structures have seen cracking and have all been repaired, to some degree. A tomb on the ancient Appian Way in Rome, the Pantheon and Roman Colosseum are just a notable few. There are parts of aqueducts and drainage systems though-out the world, used to this day.
Portland cement, aggregates and silica sands are a large part of concrete, "asbestos" being added to concrete is more modern and was developed in the early 1900's. The asbestos fibres were used for typical fibre tensile strength benefits, although some testing indicated that they didn't actually add much improvement. These fibres are fire resistant and may provide much benefit in this respect. It should be noted that "asbestos" fibres have been added to plasters and mortars too.
Knowing what your foundation is made from and how to protect yourself from not only contaminating your home, but repairing a failing foundation correctly is understanding what products you are dealing with and having certified professionals guide you or do the work for you.
Know that anyone in Alberta can do work on their own home and anyone living in Alberta can apply for and get a business license, buy business cards and have a website designed. Anyone in Alberta can put signage on their truck and put on coveralls. YouTube educated and being able to read product instructions does not certify any of those who chose to not take the time to receive accredited training or recieve testing in the trade. Truly, its a no brainer when it comes to who should be working in your home. Ask to see certifications.
We at Blockade truly believe education is key, we are Red Seal Certified Tradesmen and Alberta Asbestos Abatement Certified. "Ask to see our certificates"...
Know the risks, if anyone including the contractor is exposed to asbestos while working in your home, their/your risk of ASBESTOSIS and MESOTHELIOMA increases. As anyone who has been trained to correctly provide asbestos abatement knows "containment and encapsulation" is key.
With-out getting into procedures, a certified and qualified proffesional will know when testing concrete, drywall and mortar should be done prior to doing any work inside the home. It is their health too.
Today has brought injections as a fast and simple ways to fill a foundation crack. We understand doing this type of repair has its time and place but not with-out risks. Testing by Alberta Certified professionals will give you the assurance if work is being done inside your home, you are not contaminating your home instead of fixing it. Understanding that "drilling and grinding" concrete puts dust into the air. If the dust contains hazardous material, it can and will migrate to your living space and be breathed by all occupants of the home until it is totally "filtered" out or "breathed" in.
For those who are selling a $500.00-$2000.00 interior repairs, would be asked by an educated client if that includes containment and HEPA filtered air... has the drywall, concrete or mortar been tested? Are they Alberta Red Seal Certified? If the (THIRD PARTY) testing comes back with asbestos in it, are they Alberta abatement certified and qualified and what is the "COST". It should be noted that all Alberta certified professionals carry with them their certificates and can present them when requested. Don't missunderstand, most homes from the 70's till today have very limited or no asbestos, but do contain material with silica.
Education can be scary but should not be considered a fear tactic, all the information is readily available in MSDSs documents and can be researched. Some examples of workers with high potential risk for crystalline silica exposure are those involved in: stone cutting, foundry work, sand blasting, concrete mixing and grinding, rock drilling, tunnelling and jack hammering.
Open air (Outside) repairs are not with-out risk either. Not being inside the home and exposing the occupants proves there is an exceptionally less chance of causing concerns to indoor air quality because you are "not inside grinding/drilling" before filling a crack with injected urethane or other products.
It is your castle, deal with professionals that are qaulified and certified and trust the Red Seal for all tradespersons.
WE work on most homes from the outside-in and from the foundation up for many reasons.
Information on why a foundation fails
Entry, Dec 7, 2017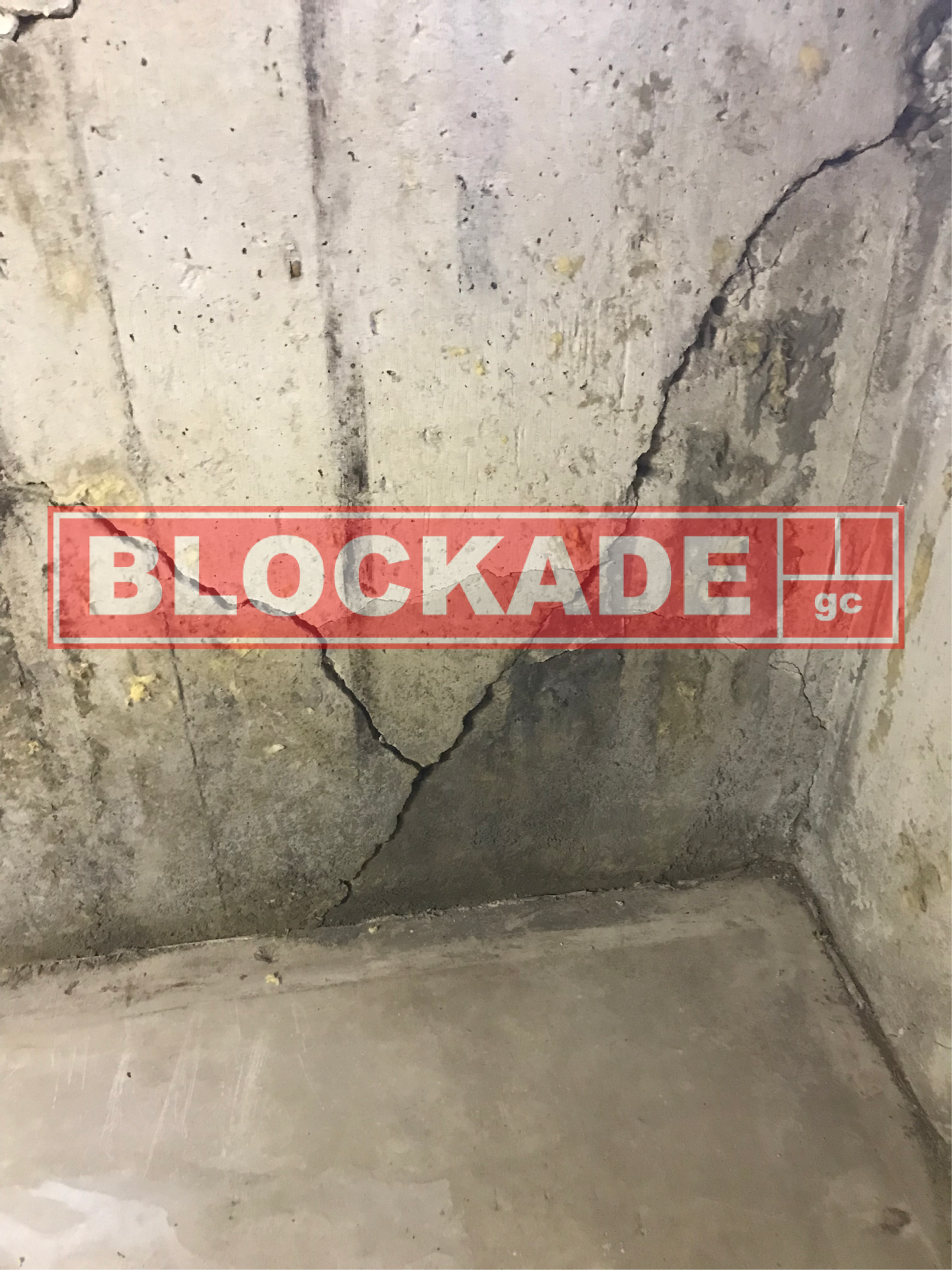 Vaporization
Moisture is being removed from the top layer of the soil near the foundation by hot or cold conditions; this in itself does not put a huge amount of stress on the homes basement but does require repair if it cracks. In addition the concrete is stressed when coupled with plants and trees putting down deeper roots to obtain precious moisture from deep in the ground causing the soils to pull away from the concrete walls. Foundation settlement will occur showing cracks that will need repair throughout the its structure. Cracks will be seen in concrete and other interior finishes.
Poor soil
Basement walls will fail and will require repair when constructing on disturbed soil or on multiple soil types. As the foundation settles or the differing conditions of soil react, the concrete again is stressed and if the foundation is not designed to handle those stresses, it fails, ending in a needed repair.
Poor construction
No reinforcement steel in the concrete could contribute to the premature failure of the basement. Poor concrete mixes. Under and over consolidation of the concrete mixes or poured in extreme cold conditions without the use of procedures or admixtures.
Freeze thaw cycle
When water freezes it increases in volume by approximately 9%, if the soil around the foundation is holding any amount of moisture it becomes a frozen mass and can put pressure up to 207MPa, this is enough to fracture the wall, footing or floor. When the soil thaws the moisture can then enter the fracture and can collect, when it becomes cold enough to freeze again the water becomes ice, it expands forcing the crack to fracture more, making it larger. This allows the opening to take on more moisture. The cycle can happen several times a season. A hair line crack will become large enough to allow significant water in over time. Basement leaks leads to non-structural foundation issues such as mold, mildew, insect and other pest...
Plumbing and sewer line
Poorly back filled excavations or over excavated lines, Water from leaky plumbing and sewer lines can be a major contributor to foundation problems.
Poor drainage
Water that does not drain away from structures foundation will lead to excessive moisture build up. Water will erode soils and cause settling of structures.
Adfreeze
Occurs when frost-susceptible soil freezes to the foundation wall, then lifts up on the wall or footing, as the soil heaves.
How to correct grading.
Entry, Sep 2, 2016
If your home is older than ten years, you are likely beginning to see how the grade has settled around your home and along buried water and sewer trenches. Your first instinct is add more top soil. Top soil is not the material that you should be using to build up grade that has settled around your home or to fill in low spots so that ground water will flow away. Sub-grade material in the Edmonton area is typically clay, it is what your home or buildings footing sit on, it is what surrounds your home or buildings foundation. By using a similar material to the undisturbed soil that the structure is built on as a grade material you do two things.
1. You maintain how the soil reacts in freeze thaw conditions
2. You create a common moisture retention in the sub-grading soil
By using top soil as a grade material, the moisture or ground water that soaks in, will follow the sunken sub-grade clay grade material back to the structure rather than flow away. It becomes an underground river that uses the sunken clay grade material as a pipeline back to the structure. To correct grade conditions the top soil needs to be pulled back to expose the rough grade, grade material needs to be added and compacted then the topsoil can be returned. A recommended slope for the grade material is ten to fifteen percent, this slope should continue out from the structure for a minimum of five to six feet. The City of Edmonton recommends 4-6 inches in 5-6 feet. You do not want to direct the water to your neighbours yard, drainage swales on the property line need to be part of your design. For lot grading information, you can contact your local authority. Even more importanly, you do not want to bring the grade on the house so high that it is higher than the concrete. It is best, when possible to keep wood no closer than 8 inches to grade. Understanding that many older home have had grade changes including street elevation changes. This can make it difficult to maintain the 4-6 inch rule of thumb.